Jerico DeAngelo - Jerico Of The Angels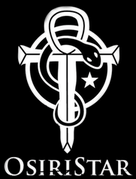 Jerico DeAngelo
Songwriter ( ASCAP ) / Modern Composer / Music Producer /
Recording Artist / Actor / Film Maker /  Entrepreneur / Creative Force
Jerico DeAngelo is a published songwriter with Grammy nominated credits, recording artist, producer, and stage and screen actor.
He has created his own style of electronic dance music, blending original classical compositions with tribal house and trance.
His controversial gothic punk persona " Jerico Of The Angels'" garnered world wide attention in the international news media spawned by his appearance on the covers of the NYC Daily News and New York Times.
" Breaking down walls" describes Jerico DeAngelo's life in the arts.  After attending The State University of New York at Purchase , as an opera major and bassoon minor, he left a promising career in classical music to focus on his first loves of songwriting and recording. 
He settled in New York City where he spent the next five years collaborating and recording with some of the world's most successful number one songwriters, signed to a production deal where he performed vocals and co-srote songs with the  songwriter / philanthropist Denise Rich, and hit song maker Michael O'Hara.... ( ' Just Because' - Anita Baker --- Jody Watley-- CeCe Pensiton , Meli'sa Morgan etc ) , as well as other top song hit makers of the day.  His work paid off with his Grammy nominated credit  "Aim Your Arrow High"  ( contemporary soul /Gospel, ) for Tramaine Hawkins' album " To A Higher Place" (Columbia Records ) which topped the Billboard charts. 
Jerico then set his attention on his own art rock / electronica recording project " Into Infinity" which he toured New York clubs and charted on College Radio through his own independent release. His controversial alter - music persona ' Jerico Of The Angels  ' was the focus of tv news stations, and printed media around the world,  including  the New York Times, NY Daily News, CNN, CNBC, Reuters, and was showcased in a news segment by the BBC.
Now, after releasing his club song " Flow Affair" with his newly formed company OsiriStar Productions , he has turned his attention once again to creating electronica - new age music, mixing his own blend of original classical compositions  with  tribal house and trance. SBLMNL MPCT 2013 EDM CD release. For his 2014 release " Undead A-Go-Go " Jerico returns to his  roots of writing EDM with Gothic undertones as " Jerico Of The Angels. His latest CD " Tame The Wind " is scheduled for release Jan 22 2016, and is an adult contemporary / pop album, but with Jerico's signature mystical Lyrical content and melodic vocals.  Jerico DeAngelo  continues to create on the edge of excellence and turn life into art on Into Infinity.